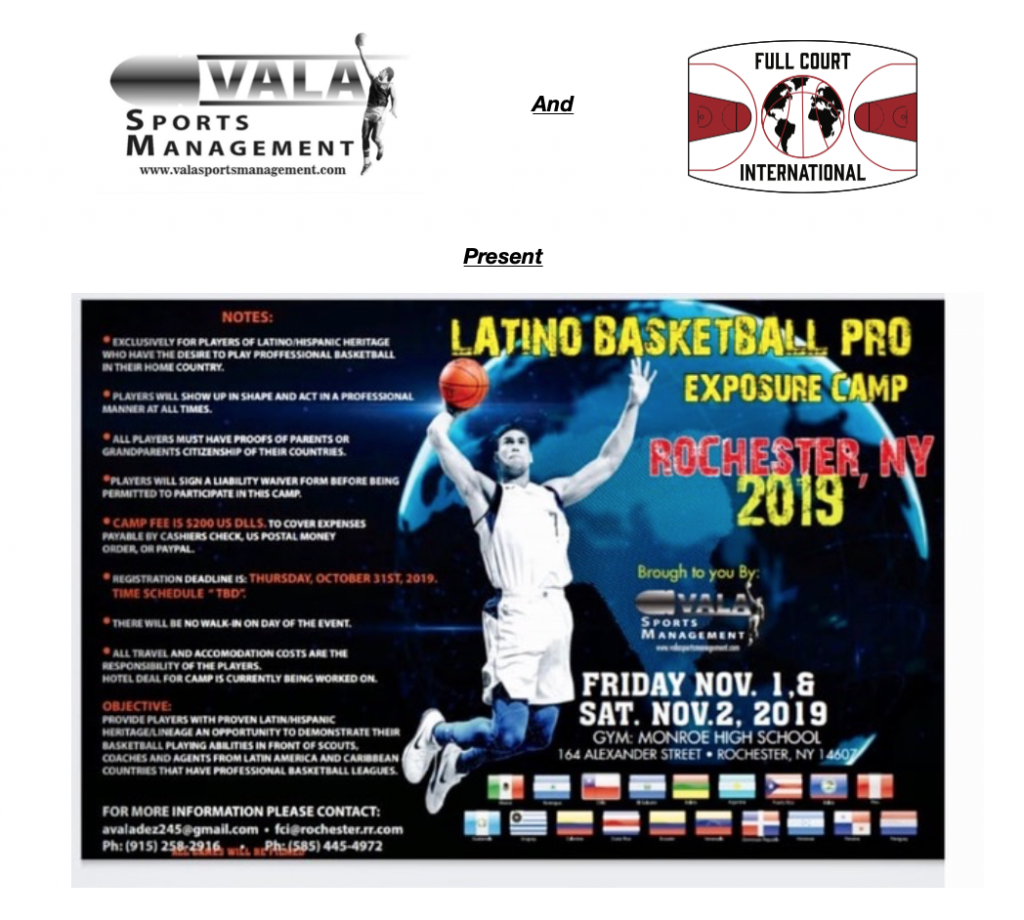 Objective:
~ This camp is EXCLUSIVELY for Latino/Hispanic players who have the desire to play professional basketball in their family's birth country.
~ Provide players with proven Latin/Hispanic heritage/lineage an opportunity to demonstrate their basketball playing abilities in front of scouts, coaches, agents from Latin American and Caribbean countries that have professional basketball leagues.
~ Coaches, scouts and agents from several Latin American countries, as well as other minor basketball leagues in the United States will be present at the camp to watch/evaluate players.
Basic Information:
Camp Dates: November 1-2, 2019
Camp Times: Friday, November 1, afternoon/evening, time – TBA; and
Saturday, November 2, morning, time – TBA
Camp Location: Monroe High School, 164 Alexander Street, Rochester, NY 14607
Camp Fee: $200US. Payable by Cashiers Check, US Postal Money Order, made out to:
Full Court International, LLC; or PayPal
*If fee is being done via PayPal, registration may be submitted online, otherwise,
Camp Registration and Payments mailed to:
Full Court International, LLC, Box 26212, Rochester, NY 14626
Camp Registration deadline is: Thursday, October 31, 2019
There will be NO walk-in or day of event registration!
Expectations:
~ Players MUST provide proof of Latino/Hispanic heritage/lineage (copy of player passport or birth certificate, copy of passport or birth certificate of parent(s), and/or grandparents from Latin American birth country).
~ All players will have their credentials (proof of Latino/Hispanic heritage/lineage, and basketball background) screened and verified BEFORE being permitted to participate in the camp. Players who do not provide proof/documentation of their Latin/Hispanic heritage WILL NOT be permitted to participate in the camp.
~ Players MUST sign a liability waiver before being permitted to participate in camp.
~ Players will show up in shape and act in a professional manner at all times.
~ All travel and accommodation costs are the responsibility of the players. Hotel deal for camp is currently
About the Camp Coordinators
Armando Valadez (right) is a FIBA Certified Basketball Agent (License Number: 2013500060), and the Founder and CEO of Vala Sports Management that represents players who have competed at the highest level in Latin America, Asia and Europe. Armando is also experienced in conducting professional player exposure camps  in Mexico and the United States. His numerous exposure camps offers players the opportunity to demonstrate their basketball talents to coaches, scouts, general managers, team owners, to enhance their chances of obtaining a playing position. For the past two years, he has conducted the successful "La Liga" professional exposure camp in Las Vegas for Argentina's Liga Nacional de Basquetbol. Armando has also played and coached in Mexico including two CIBACOPA Championships, and competing in two World University Games.
Dan Dunne (left) is a FIBA Certified Basketball Coach (License Number: 2014502758), and the Director of Full Court Basketball Services, LLC, a player development company, based here in Rochester. Dunne is currently a scout for the Harlem Globetrotters, four teams in the Puerto Rican Superior League, three teams in the Canadian National Basketball League, and three teams in The Basketball League. He has also worked the tryout camps for several NBA G-League teams including, the Raptors 905, Long Island Nets, Delaware 87ers/Blue Coats, and Lakeland Magic. He played collegiately at Big East member Seton Hall, and at the professional level internationally in Puerto Rico and Australia. Dunne has also coached and led camps and clinics internationally on five continents.